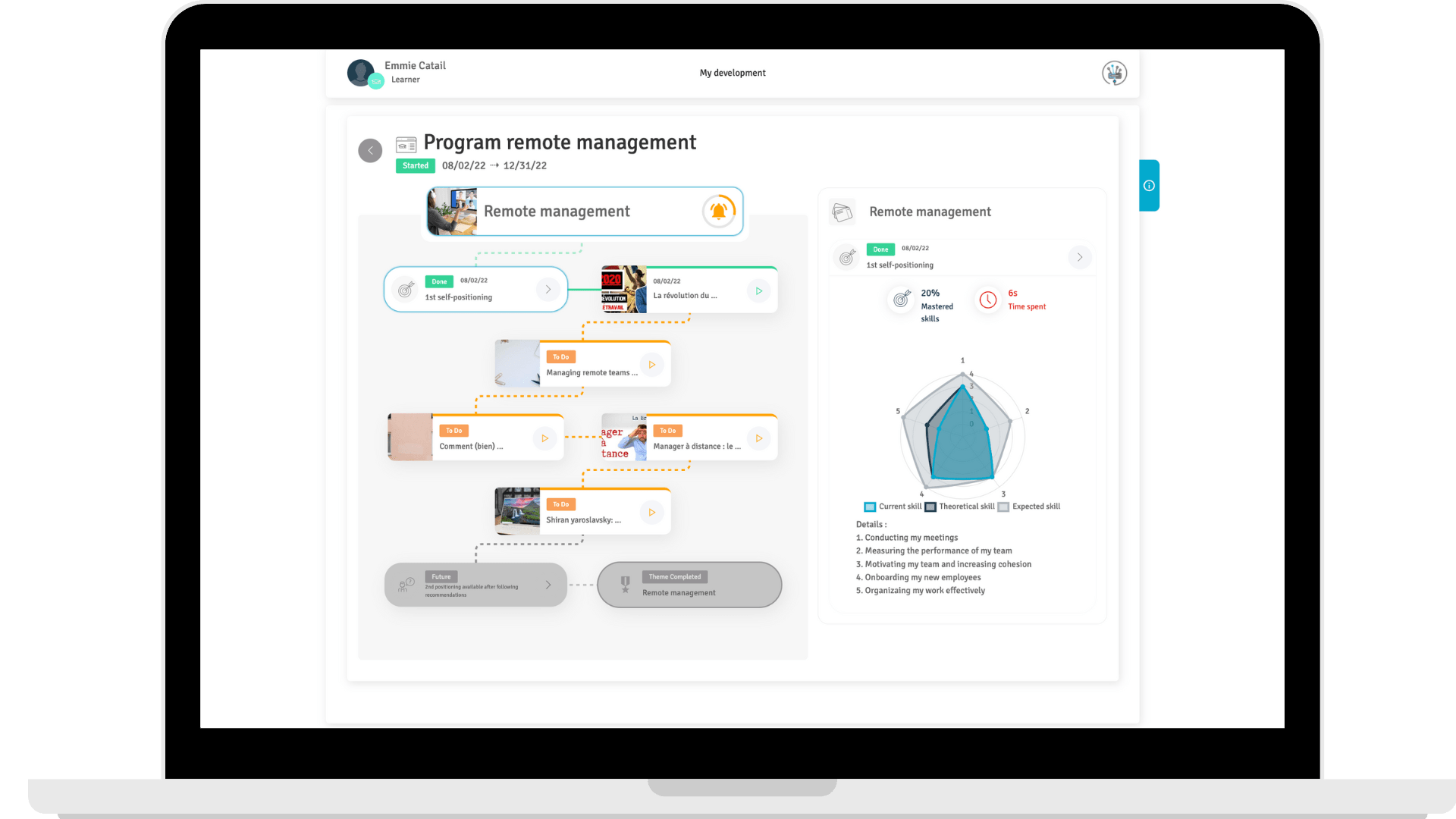 Learner
Diagnostic of the learner's target skills with an adaptive assessment
Learning recommendations adapted to the learner's profile and needs
Gamified dashboard to follow the learner's upskilling process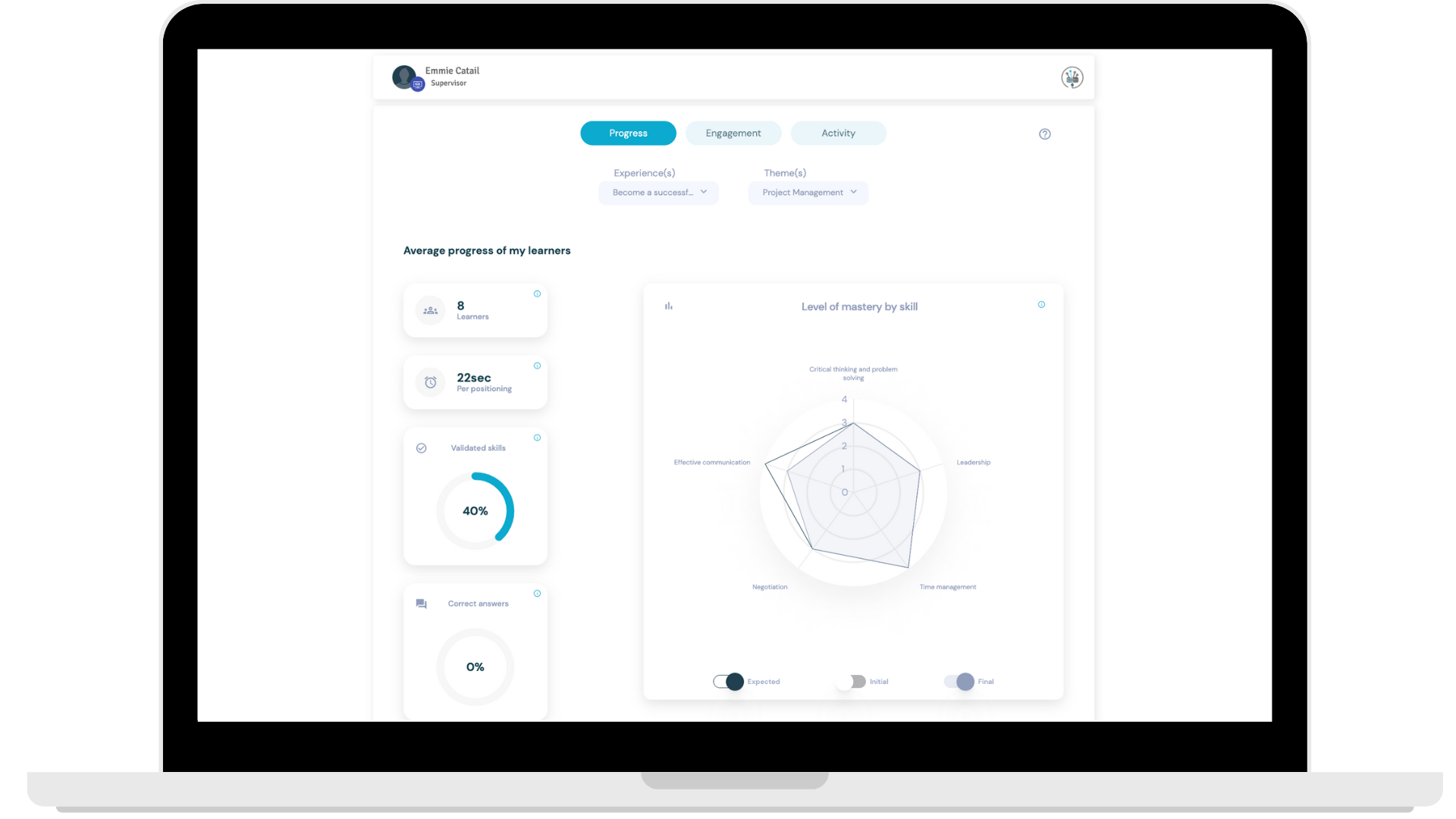 Manager
Interface to monitor the learners both individually and collectively
Reporting on the learners' proficiency on the required skills
Dashboard to measure the efficiency of the learning actions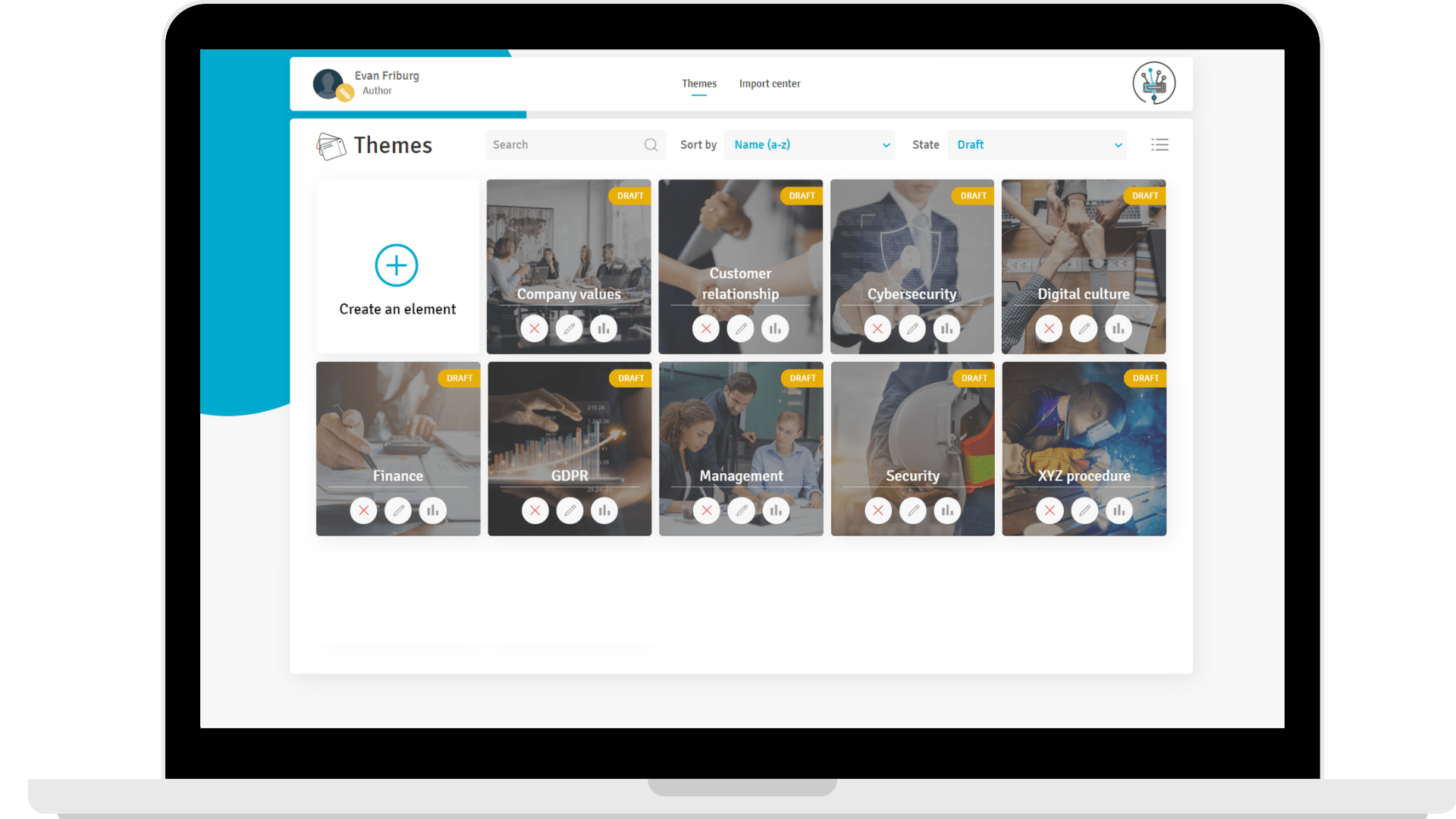 Author
Design of themes in autonomy via Domoscio Hub authoring tool
Functionality to export in SCORM format and distribute on the LMS
Dashboard with feedback on the relevance of the learning materials
---
Our clients improve the impacts of learning
37 %
Time saved to acquire the target skills
49 %
Fewer learners failing the learning path
The results presented above have been achieved as part of experimental protocols carried out with several clients of Domoscio.
---
Adaptive learning to individualize the learning plans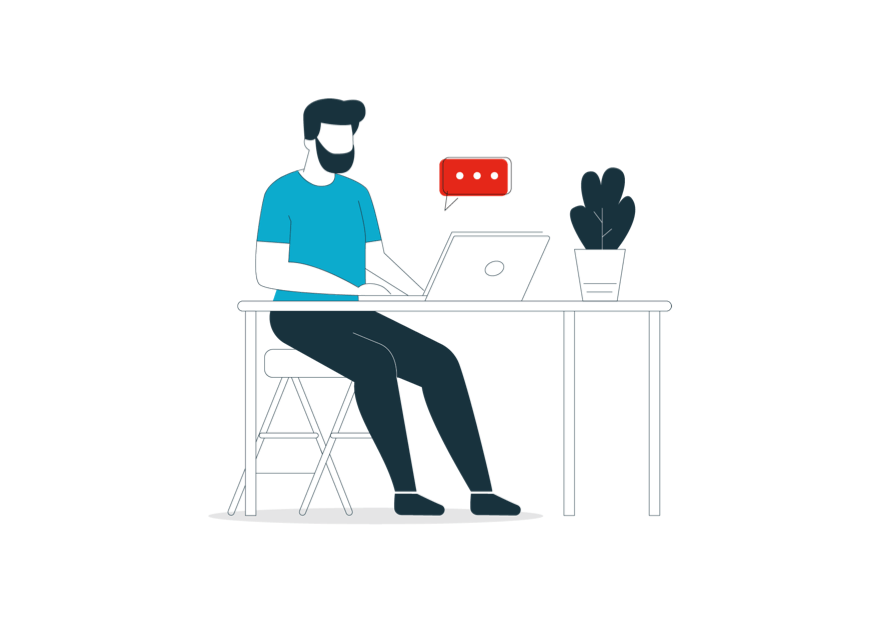 Hub is an adaptive learning solution which individualizes the learning plans according to each learner's skills proficiency and job requirements.
The learner's objective is defined by job requirements or strategic workforce planning
The learner's level of proficiency is assessed with an adaptive positioning test: the quizzes evolve in real time according to the collected results
The learner's path is built with recommendations of learning materials adapted to their individual profile: classroom training, e-learning, micro-learning, immersive learning, etc.
Once the recommendations have been followed, the algorithm reassesses the learners to measure their progress and, if necessary, recommend them new learning materials to follow. The machine learning models make use of this new data to identify the most efficient learning materials according to the different typologies of learners.
Hub adapts to the context of each company and each business unit by using existing content, no matter the format (face-to-face, virtual classroom, video, quiz, etc.) and the source (LMS, digital material library, video streaming platform, etc.). To do this, it interfaces with existing learning platforms (LMS, TMS, LEP, etc.) using the interoperability standards of the learning market: SCORM, LTI, xAPI, etc. Therefore, the user experience is seamless and transparent for the learners, which improves their engagement.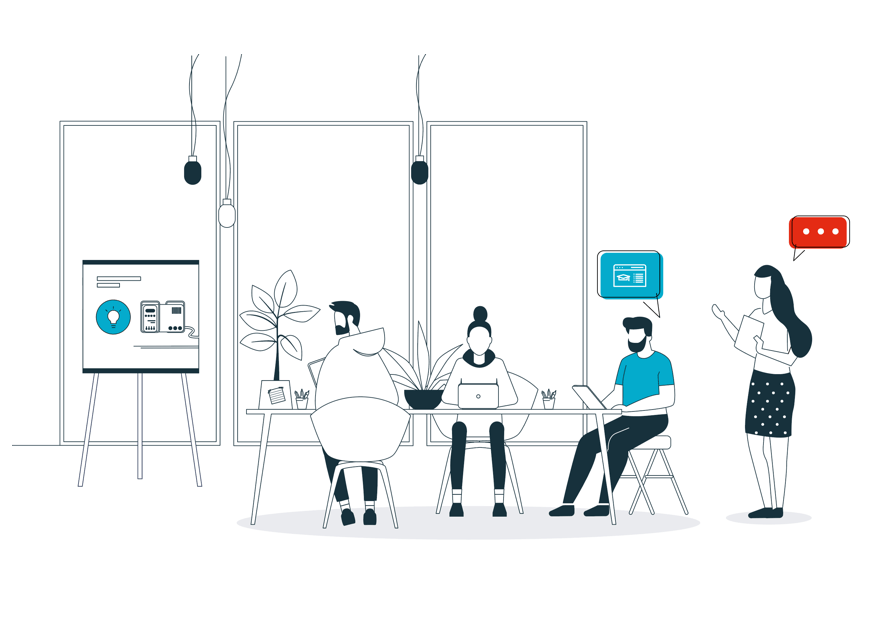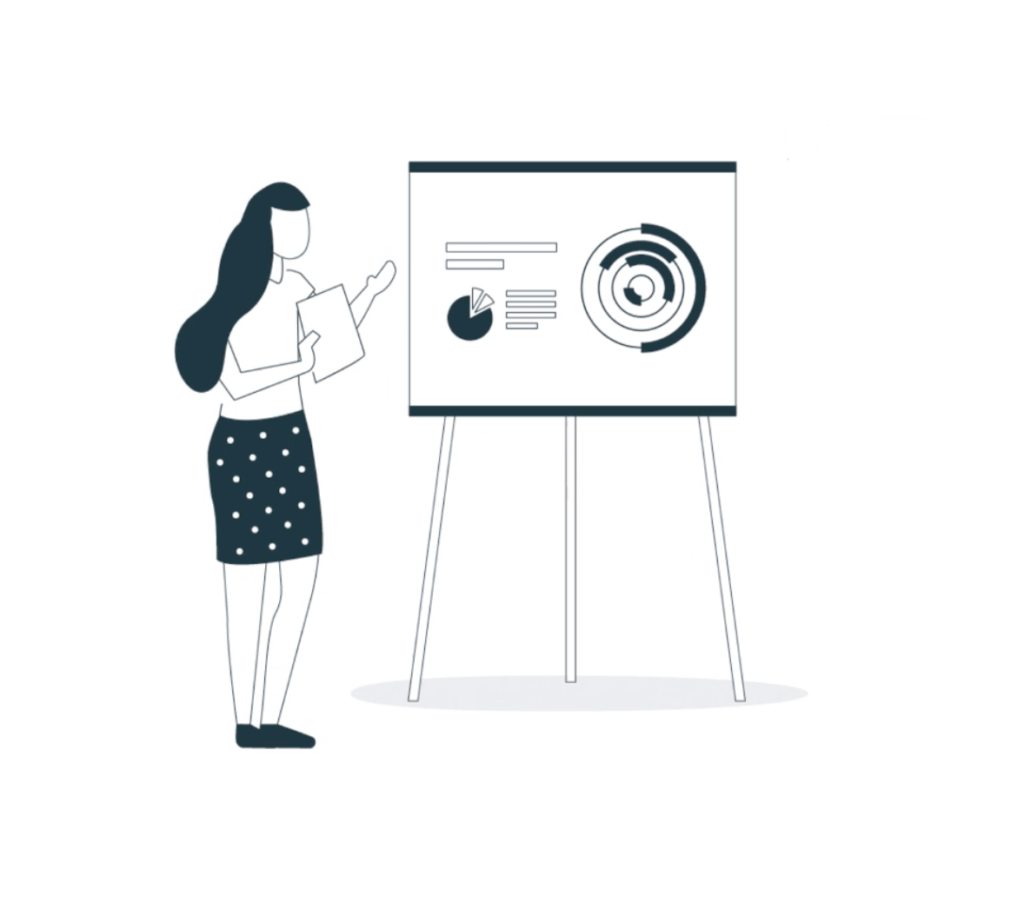 Thanks to the generated data, Hub provides the different stakeholders with analytics adapted to their needs. The manager can monitor the skills development of his or her employees, individually and collectively, to identify potential training actions to be implemented. The learning team has access to data on the use, difficulty and relevance of materials, to better adjust their learning design strategy. Finally, the HR manager can monitor aggregate analytics related to the use of the tool and skills management.
---
They trust us
---
Discover our other products
---
Latest news
Our latest articles about the topics: learning, science and Domoscio's news.