Myskillcamp announces acquisition of AI learning company Domoscio to transformation in EdTech
Belgium LXP continues rapid growth with acquisition.
Belgian scale-up, myskillcamp acquires AI Learning company, Domoscio which will bring new technology to the HR and L&D space.
Myskillcamp is a skills delivery platform that provides personalised training courses to thousands of learners. This growing company has been in the news multiple times in the last couple of years, due to its transition from start-up to scale-up, for the €12 million investment made to the company in Q3 2021 and the expansion into multiple countries, starting with the UK.
The investment and growing profits has led to a 269% year on year growth, the number of employees tripling, new offices opening in Brussels and London, and now, the acquisition of Domoscio.
Myskillcamp CEO and Co-Founder, Kevin Tillier describes the ongoing successes seen at the company, "Our aim has always been to revolutionise training by being the all-in-one skills delivery platform. But as our company grows and training needs change, we must develop too".
Domoscio CEO and Co-Founder, Benoit Praly explains his motivation and enthusiasm towards this merger, "It seems obvious to me that our clients, our partners and the L&D market in general needs packaged solutions delivering immediate value to the learners. For years, we have been advocating learning path individualisation and building trust towards adaptive learning technology, reaching a leading position on the market. Today we are achieving the next step: using adaptive learning technology to deliver off-the-shelf upskilling experiences with curated content powered by myskillcamp. This industrialised approach will eventually focus on the "why", which is skills acquisition, whereas the other market providers are still lacking behind focusing on the "how", which is adaptive learning technology. "
Adding another arrow to their edTech quiver
Myskillcamp's platform is continuously striving to offer the most updated and technically advanced services in the eLearning industry, with authoring tools, analytics and a training course marketplace. However, the industry is shifting towards using Artificial Intelligence and machine learning to automate and personalise courses. Therefore, acquiring the AI Learning company, Domoscio, which offers adaptive learning paths and retention capabilities was a perceptive solution to remain competitive and continue the growth path.
Kevin explains the benefits of the acquisition, "Together, we want to make L&D teams unstoppable and make learning much more individual and impactful. [Due to the acquisition] our skills delivery platform becomes completely integrable with any LMS or HR platform on the market, we now offer a 360° view to HR on their teams' skills gaps, and we have 'ready to use' adaptive learning paths with pre-curated content from our partners".
CEO of Domoscio, Benoit Praly has similar views, "Our partnership is customer-centric by definition. We would not have it any other way. Usage, practicality and user engagement is key to deliver proper development and growth. We both hold a key component of L&D transformation and they so naturally come along to deliver on-the-shelf adaptive learning experiences to the market."
This partnership has already proven advantageous to those in the L&D and HR sector that want to personalise their learning strategy at scale. With myskillcamp's ability to offer learning paths and over 300,000 courses and Domoscio's ability to offer AI and learner retention capabilities, customers have been able to give their learners a better chance at retaining knowledge and upskilling.
Kevin Tillier (CEO of myskillcamp) and Benoit Praly (CEO of Domoscio) are truly excited to bring this partnership to life and keep on investing in learning analytics, with Benoit stating, "I am looking forward to putting our mutual value proposition out to the world to use." Both CEOs even give a sneak peek into their next offering, "…our next step, product wise, will be around predictive analytics in the learning cycle.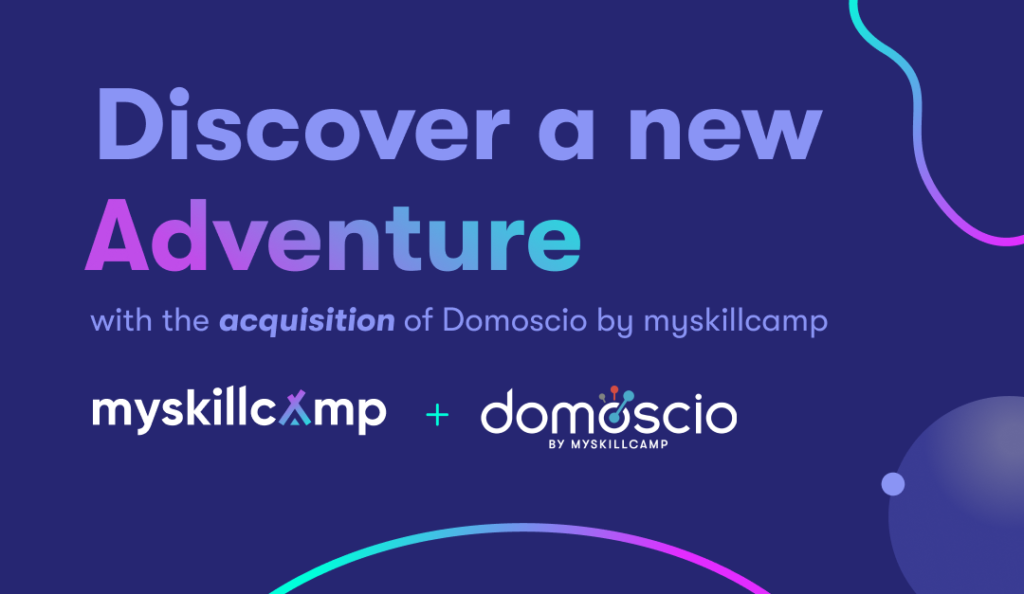 ---
Latest news
Our latest articles about the topics: learning, science and Domoscio's news.